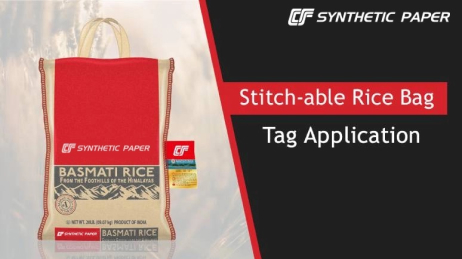 CSP For Stitch-Able Rice Bag Tags
Cosmo Films partnered with the market leader in the printing & graphic segment to supply Cosmo Synthetic Paper for their rice bag tag printing requirement. They needed a solution that could be stitched to rice bags & fit well in their printing process to help them achieve efficiency and save cost & time.
Cosmo Synthetic Paper (CSP), backed by its friendly team of experts, turned out to be just the solution for them. CSP was compatible with their offset printing process and offered both-side printing, quick ink drying & high ink retention ability which most synthetic papers fail to provide. It is a non-tearable, moisture resistant & durable solution perfect for rice bag application where tags can be exposed to rough conditions during transportation or storage. Further, the Cosmo team helped them with a customized sheet size to eliminate wastage & save cost. As a result, with our consistent product quality & support, they were able to increase their productivity by 10% & achieve unprecedented results.