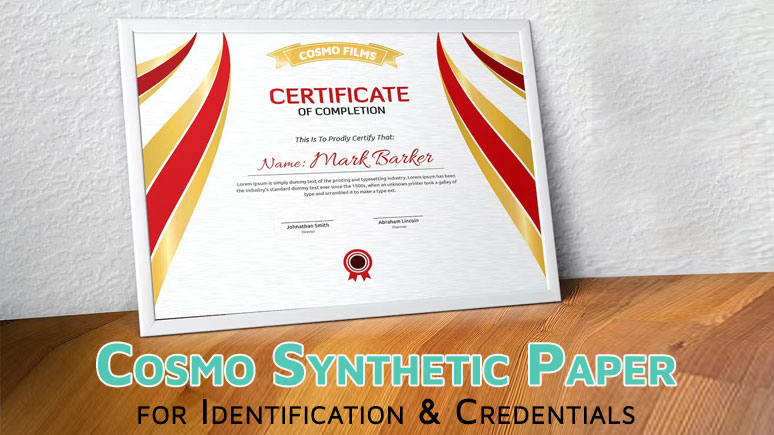 CSP For Identification and Credentials
The proof of identification & credentials is crucial information that demands special care. From government IDs to college degrees, these are usually kept in a special damage-free environment.
Ensure maximum safety by printing them on Water Resistant Cosmo Synthetic Paper.
Cosmo Synthetic Paper is a BOPP-based, Water Resistant film that resembles paper in look & feel. It's used in applications that need a durable print with excellent quality. Printing identification & credentials on this film eliminates the need for lamination and lessen the need to treat them with extra care.
It's a

non tearable paper

which eliminates the need for lamination. This helps save costs without sacrificing longevity.
It has water resistance, oil & chemical resistance coupled with excellent ink retention properties, which makes it ideal for printing certificates with information & logos.
It accepts rubber stamp impressions without distorting the printed information below to let companies/universities/government imprint their symbol with ease. 
It's writable with pencils & oil-based pens to enable signing the certificates before handing them out.
This highly versatile paper can be used for
Visiting card
Contracts
Legal documents
Marksheets
Certificates
Membership cards, & more.