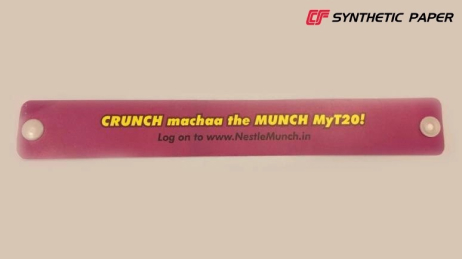 Cosmo Synthetic Paper For Wristband Application
Cosmo Synthetic Paper has been used recently by a global FMCG company for a wristband application for their proposed promotion campaign during Indian Premier League 2018 (an inter-club cricket tournament). They were looking for a substrate which is light-weight, tear and moisture resistant and Cosmo Synthetic Paper became an ideal choice for their requirements. This non tearable paper was printed through conventional offset process with the help of special inks and then converted into a form of wristband through die-punching and buttoning process. It was then printed with a Konica Minolta laser printer for sequential numbering process.
Typical usage of wristbands would be in applications where a visual means of identification is needed like Admission Control, Age Verification, VIP Access, Group Identification, Crowd Management, Security, Event Management, Advertising and Branding.