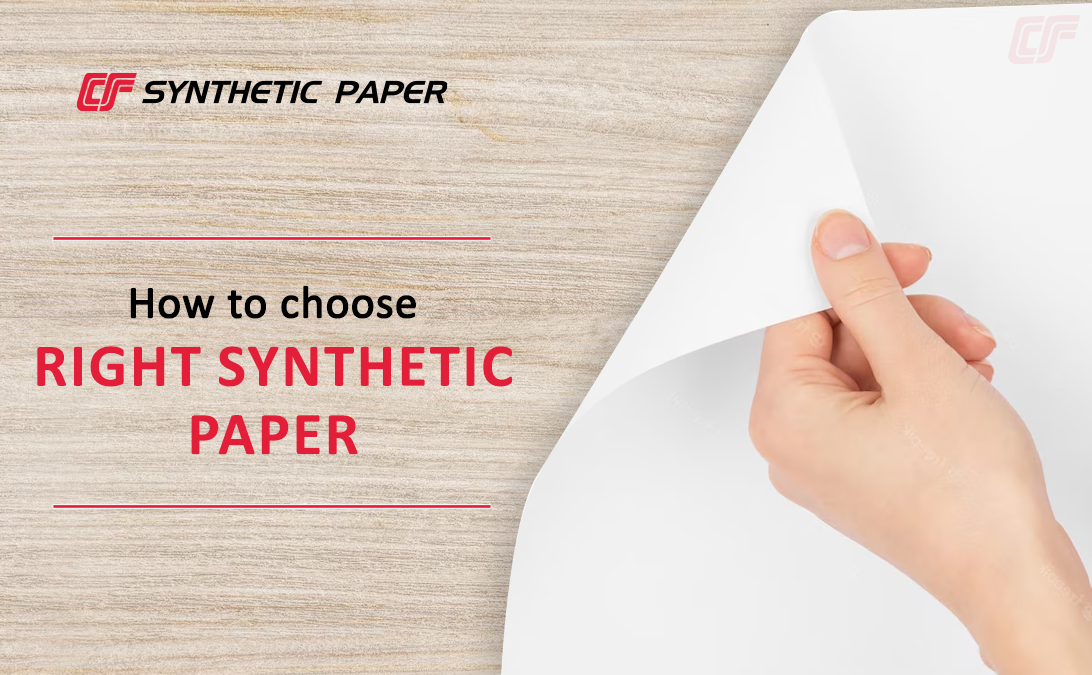 How to Choose the Right Synthetic Paper?
What makes Synthetic paper different?
Printing and packaging play a critical role in forming brand image. Long lasting, durable packing and labels create lasting brand visibility and craft an essential part of customer experience. It is thus crucial to choose the right paper for different applications.
Traditional paper even though widely used lack certain level of endurance required for longevity. Synthetic paper is a resin-based paper that has mechanically enhanced properties. It is available in several types, each with its own unique properties. But choosing the right synthetic paper can be tricky. Even though every synthetic paper has few common usage benefits, a certain resin based synthetic paper material can be more suited for a particular application.
There are several parameters that can be considered to choose the perfect synthetic paper for your project. Each synthetic paper is a unique combination of polymers and additives and is slightly different from another. Let's understand how to select the correct Synthetic paper
Texture - Texture is a crucial part of selecting a print surface. Smooth or otherwise textured paper can be used for projects that do not need to appear like conventional paper. While most commercial projects use glossy top coated synthetic paper, uncoated synthetic paper material could be used in commercial prints that need to have more natural paper like texture.
Thickness- This is a critical parameter of measurement for choosing the right synthetic paper material. Thickness of synthetic paper is measured in microns. A thicker synthetic paper material is well suited for heavy duty packaging projects and are much sturdier for robust applications. A thinner synthetic paper material on the other hand is better suited for light weight packaging projects that require greater flexibility.
Colour- Synthetic papers can be glossy, matte, white opaque, natural or any other colour. While choosing a material it is particularly important to consider what kind of appearance you want or what background is suitable for visibility of crisp graphic or text.
Opacity- Opacity is the level of transparency paper has. Before choosing any synthetic paper for a project it is important to consider the level of opacity it has. Opacity can effect print density & quality. Opaque synthetic paper material is a well-suited solution for projects that require large amount of paper for printing but need to be cost effective. Opaque PP synthetic paper is a viable choice for printing on both sides. It can reduce the amount of paper required and make the project cost efficient.
Printability - Synthetic paper is a very versatile printing material. Every synthetic paper is compatible with all existing printing technologies, yet they can be differentiated based on finish quality of different paper on different machine. Uncoated paper is ideal for conventional offset printing and screen printing. Coated paper is ideal for UV offset printing and flexographic technology.
Stiffness – It is important to consider the rigidity of printing material according to the application. Some synthetic paper materials are rigid, while others are softer surface to print on and easy to fold.
Sustainability - While synthetic paper material overall is more sustainable and eco-friendlier than traditional paper, there are still options within the category. PP and PE synthetic paper are easier to recycle than PVC or Vinyl based synthetic paper.
Cost - Most important parameter of choosing any project resource is cost. It is important to consider the cost of synthetic paper before deciding. While most synthetic paper available in market are competitively priced, synthetic paper material is often less expensive than conventional paper in long run. It is a cost-effective option for businesses in commercial printing as it gives added advantage of durability and reduces requirements of re-printing.
Which synthetic paper is the amongst the top choices?
 Cosmo Synthetic paper is the perfect choice for all kinds of projects. Its sustainable durable waterproof paper that comes in six distinct types:
1. Standard Synthetic Paper – Non-Top Coated Paper
2. Both Sides Coated Synthetic Paper
3. Both sides Coated – Digital & Laser Printable Synthetic Paper – Extra White Shade
4. Both sides Coated – Digital & Laser Printable Synthetic Paper - Natural Shade
5. Top Coated Synthetic Paper
6. Both sides Coated- High Tear Resistance Synthetic Paper
It is looks and feels exactly like paper but is exceptionally durable and provides excellent ink adhesion with all kinds of print technologies. Cosmo synthetic paper is versatile and has remarkable endurance for extreme outdoor conditions.
Cosmo is one of the leading synthetic paper manufacturers and provides benchmark quality products across nations.