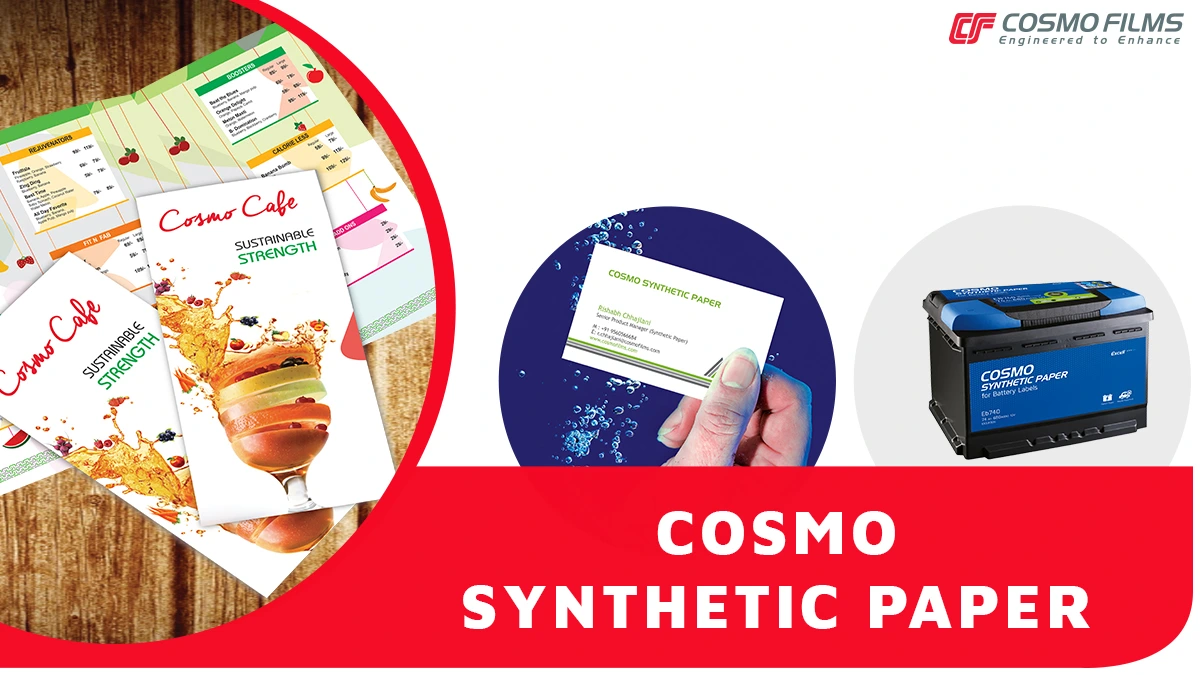 Cosmo Synthetic Paper: The Eco-Friendly Solution
In the present day and age, one can hardly close their eyes to the environmental crisis the world is facing. With population explosion around the world, the demand & consumption for anything and everything has risen to unimaginable extents. The extensive use of paper, for example, has led to cutting down of innumerable trees and increased the carbon footprint. In order to restore balance, Cosmo Films has introduced an eco-friendly replacement of paper in applications which require durability and longevity. Cosmo Synthetic Paper (CSP), which is a co-extruded, white opaque, polypropylene-based film, is an ideal replacement to pulp based paper. Let us now see some of its features-
It is a non-tearable paper made using synthetic resin.
It is resistant to moisture, oil as well as chemicals.
It has excellent folding endurance, meaning that the paper can be folded multiple times and won't tear off.
Compatible with diverse printing technologies like Conventional Offset, UV Offset, UV Flexo printing, Water-based Flexo printing, Thermal Transfer, Screen, Letterpress, UV Inkjet, HP Indigo and HP Latex printing and select Laser Print technologies.
It can be die-punched, sheeted, serrated, stapled and adhesive bonded too.
It accepts rubber impressions as well as is suitable for hot foil stamping.
It has an excellent lay flatness.
Available Variants of Cosmo Synthetic Paper
Standard Synthetic Paper - This opaque white paper undergoes co-extrusion and has corona treated polypropylene-based film on both sides; suitable for off-set & screen printing. It's perfect for commercial printing, tags/labels, banners, posters, visiting cards, markesheets, outdoor billboards & similar products.
Top Coated Synthetic Paper - Also a co-extruded, opaque white synthetic paper, it comes with a matte-finish polypropylene-based film coating on one side; suitable for conventional/UV offset, water/UV flexo, letterpress, screen, TTR and digital (only on select toner technologies) printing. It has similar applications to Standard Synthetic Paper.
Both Side Coated Synthetic Paper - As the name suggests, this opaque white, co-extruded paper is both sides coated with polypropylene-based film. Its printing compatibility is the same as the top-coated synthetic paper & comes with similar applications.
High Tear Resistant Both Side Coated Synthetic Paper (FLEXI) - With a typical paper-like look, this white opaque & co-extruded sheet has a high tear resistance and compatible with all printing technologies.
Laser Printable (Dry Toner) Both Side Coated Synthetic Paper - Co-extruded, opaque white synthetic paper coated with a more white shade film on both sides. Compatible for dry toner printing; printable both side by HP Indigo, screen, letterpress, Conventional/UV offset, water & UV flexo, and TTR processes.
Applications
CSP has proven to be useful across various segments including retail packaging, tags & labels, commercial printing and identification & credentials. Some of its common applications include menu cards & coasters, calendars, posters & danglers, photo albums, labels & tags (for food & pharma, containers, chemical drums, apparel & footwear etc.), banners and carry bags.
Cosmo Synthetic Paper can have far-reaching impact in solving the twin challenges associated with pulp-based paper; the challenges being cutting down of trees and the extensive usage of water during the manufacturing process.