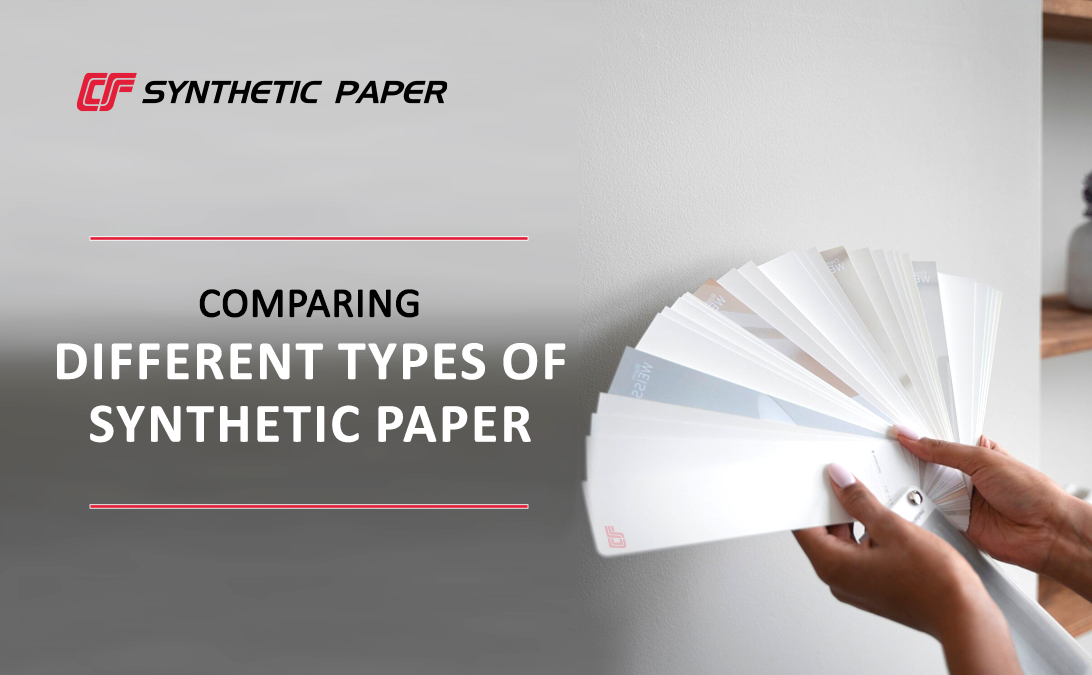 Comparing Different Types of Synthetic Paper
Synthetic paper is slowly but steadily becoming an ideal replacement for conventional paper. It looks like conventional paper and feels like it but has far superior endurance and unique qualities that make it stand out.
But what makes synthetic paper superior?
While traditional paper is made from wood pulp synthetic paper is resin based. So, it shares certain properties of both paper as well as packaging & lamination film. Its grease, oil, and moisture resistant like film and white, writable, and printable surface like conventional paper.
There are multiple types of resin-based papers available in the market. Each comes with its own unique quality and benefits. Let's discuss and understand the types of synthetic paper and which one is the perfect fit for what purpose.
Polyester Synthetic Paper - PET Synthetic paper is made from polyester resins. It has durability of a plastic and aesthetics of a paper. Polyester synthetic paper has excellent resistance properties. It's used in applications such as menu cards, IDs, and maps. It's ideal for applications that may be roughly handled or have heavy day to day use. Its tear resistant and comes with high durability.
Polypropylene Synthetic Paper – PP Synthetic paper is an ideal fit for making labels, tags, and packaging materials. It offers excellent printable surface and is compatible with every printing technology. Its offers packaging films durability in paper and is well suited for use in outdoor signboards and displays. PP Synthetic paper has high moisture resistance and protects print integrity from UV exposure.
Vinyl Synthetic Paper - Vinyl synthetic paper is commonly known as PVC paper. It has a unique set of properties that make it suitable for outdoor signs, banners, promotional material, and menu cards. It is most used in printing ID cards and membership cards, suited for rough and tough use. Its sturdy and long-lasting. PVC paper material is also used in producing water and oil resistant wall papers. Promotional materials that need to appear glossy and vibrant can be made using PVC Synthetic paper.
However, PVC paper has raised certain environmental concerns in recent years. It is non-biodegradable and has recycling challenges. PP & PE synthetic papers are much more eco-friendly alternatives with similar benefits.
Synthetic paper can be also differentiated based on surface coating and its suitability to work with different printing technologies. Synthetic paper can be top- coated, uncoated or coated on both sides. Coatings can change suitability for applications and can also change printability of paper.
How do we differentiate Synthetic paper based on coating?
Top-Coated – Top-coated paper has coating applied to only one side of the paper - the top side. Printing is done on the coated side of the paper as it provides excellent ink adhesion. Coating enhances the quality of printing surface and boosts printability. Coated paper improves colour reproduction and adds vibrancy to the prints. Its glossy appearance enhances brand graphics and makes the print visually appealing. Top-coated Synthetic paper is well suited for UV Offset Printing, UV Flexo and HP Indigo printing.
Uncoated Synthetic Paper – Uncoated Polypropylene synthetic paper closely resembles conventional paper in appearance. It has no coating on either side and hence has less shiny appearance and more natural feel. It is closer to conventional paper in texture and finish and is more suited for projects where glossy graphics are not required in print. Uncoated synthetic paper can be considered raw synthetic paper. It is used in applications that require textured matte paper. In some cases, uncoated synthetic paper may be more cost effective. It is recommended for conventional Offset printing and Screen printing.
Both sides coated – This type of Synthetic paper has coating applied on both sides and it is exceptionally durable. Both sides coated synthetic paper provides consistency of excellent prints on both sides. It is ideal for applications that require double sided prints like brochures & presentation folders. Both side coated paper is recommended for multiple printing techniques. It is well suited for use with Conventional and UV Offset, Water and UV Flexo, UV Inkjet, HP Latex, and thermal transfer printing on both sides. Some certified grade of synthetic paper can be also used with HP Indigo presses.
What is Cosmo Synthetic Paper offering?
Cosmo Synthetic Paper is one of the leading synthetic paper manufactures that offer six types of coated and uncoated synthetic paper. Its 100% recyclable PP synthetic paper available in reel as well as sheet format. Cosmo synthetic paper has exceptional compatibility with a wide range of conventional and modern printing techniques. It is the modern age paper that is changing the trend of printing, packaging, and labelling globally. Its remarkable durability and resistance properties are causing a major shift across industries. Cosmo Synthetic paper has large pool of applications and is driven to make an impactful change. It is recyclable and much more eco-friendly than traditional paper. It's a perfect fit to make a sustainable switch from conventional paper.