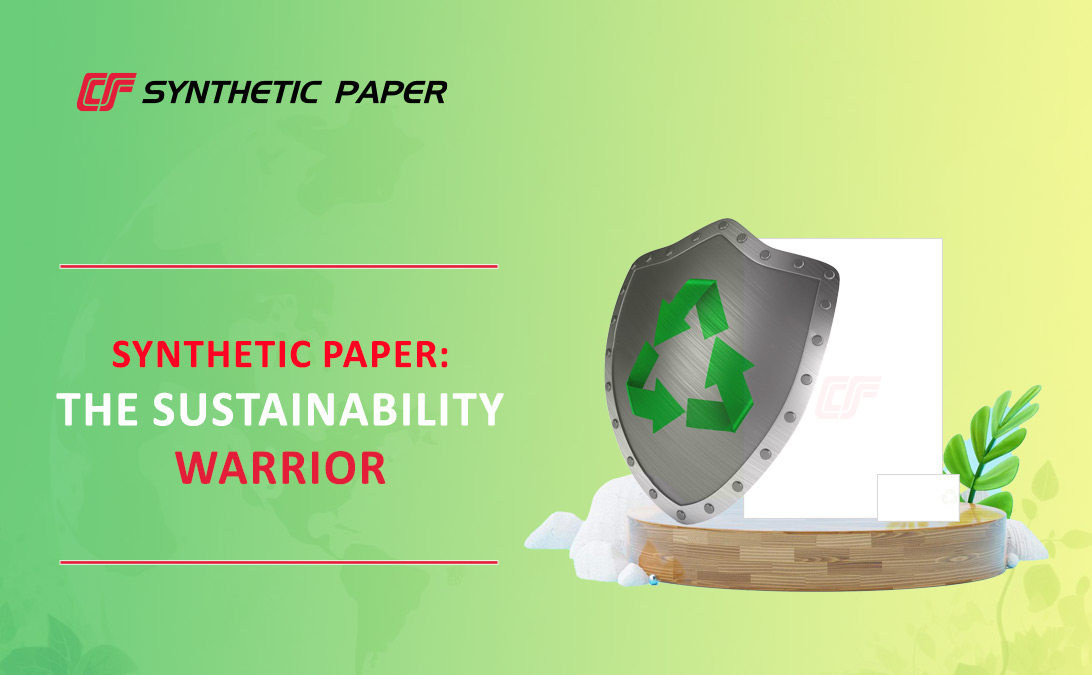 Synthetic paper material: just a replacement or a true sustainable revolution?
In recent years the global trend towards adopting sustainable practices is on the rise. Our collective commitment to switching to sustainable alternatives from use of traditional materials have given way to technology driven innovations that are becoming game changing solution. One such technology driven, cutting edge innovation is Synthetic paper. A revolutionary replacement to traditional paper, that is steadily making its way across printing, packaging and lamination industry.
Synthetic paper unlike traditional paper is not made from wood pulp. It is manufactured from synthetic PE & PP based resins. It feels like traditional paper but is aesthetically more appealing. It is eco-friendly and much more sustainable in all aspects when compared to traditional paper.
The benefits of using synthetic paper over traditional paper are long lasting and truly impactful. Its resistance to moisture, durability, recyclability and repulpability minimizes its overall ecological footprint.
How is Synthetic paper making a compelling case for sustainability?
Let's understand exactly how Synthetic paper material caters to modern day business needs while being the cutting-edge replacement to traditional paper:
Recyclable & Repulpable – First and foremost advantage of using synthetic paper is its recyclability. Synthetic paper allows efficient fibre recovery during recycling process. It can be recycled multiple times in contrast to recycling limitations of traditional paper. Synthetic paper is an ultimate solution for businesses trying to make a switch to 100?o-friendly recyclable paper. It can be easily recycled using conventional recycling processes.
Waste minimization – Through its durability and resistance to any form of moisture, synthetic paper reduces the amount of reprints required by business on regular intervals. It is non-tearable paper with exceptional endurance to folding. Synthetic paper is ideal for daily wear and tear and is well suited for use in extreme external conditions. It can reduce carbon footprint of any business significantly by reducing the need for frequently reprinting large outdoor displays, cards, and brochures. Synthetic paper is also fade resistant and protects all kinds of printed material from yellowing over time. Its moisture resistance makes is crumple free and ideal to use in menus & food labels. All these properties help in reducing print wastage. In long run this is not just ecologically impactful but is also economically beneficial.
Reduces deforestation and conservation - Traditional paper is produced from wood pulp. This practice has significantly given rise to deforestation drives across the globe and is leading to climatic change and loss of biodiversity worldwide.  Synthetic paper is the green solution to this global crisis. Synthetic paper is produced from melted PE & PP resins and require significantly less amount of natural resources in production. This reduces deforestation drives globally and helps in prevention of bio-diversity loss. The production process of traditional paper also uses a generous amount of water and energy. A switch to synthetic paper can contribute significantly to the conservation of these natural resources.
Reduces pollution- Synthetic paper does not require as many chemical treatments as traditional paper does during production or recycling process. This helps in reduction of water contamination levels and carbon emissions. Synthetic paper thus causes minimal pollution.
How is Cosmo Synthetic Paper a sustainable solution?
Cosmo Synthetic Paper is a highly recommended eco-friendly alternative to traditional paper. It is a durable, recyclable and non-tearable paper with excellent resistance to water, chemical and oil. Cosmo synthetic paper is made from a unique blend of synthetic fibres, resins and additives that reduce deforestation and minimize waste generation. It is a technology driven innovation that feels exactly like traditional paper but is aesthetically much more appealing.
Cosmo synthetic paper is highly versatile and compliant for use in printing, packaging and lamination industry. With its exceptional ink adhesion properties, it produces prints that are vibrant, crisp and long lasting.
Additionally, Cosmo Synthetic paper is the ideal choice for business looking to reduce their carbon footprint. It reduces the number of re-prints required due to daily wear & tear and overtime fading of paper.
Cosmo Synthetic paper is 100% recyclable and repulpable. It can be recycled using conventional paper recycling machinery and is excellent choice for business striving to reduce waste and promote a circular economy.
At Cosmo we truly believe that together as a responsible society we need to switch to alternatives that promise a greener and better tomorrow. We encourage making environmentally conscious choices and are committed to encourage sustainability - one synthetic paper at a time.
Cosmo Synthetic paper is a revolution in paper production industry and is dedicated to revolutionising your business too.