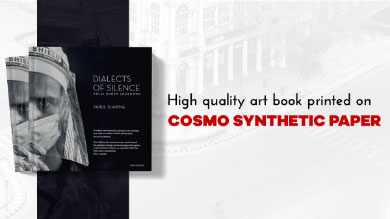 Another Success Story For Cosmo Synthetic Paper
Cosmo Synthetic Paper (CSP), that has proven to be successful across industries, was recently used for a high-quality art book, Dialects of Silence. It's a coffee table book, launched as a result of Cosmo Films' association with the reputed Roli Books publication and ace photographer Parul Sharma.
The book reflects the mood of India's capital city, Delhi, during the four-month lockdown. Parul, along with the publication house, vested their trust in Cosmo Synthetic Paper to bring this story to life with its amazing print quality.
CSP is an ideal replacement for pulp-based paper. Its edge over wood pulp based paper is its non-tear property and long-lasting durability, moisture and stain resistance, and premium print quality. Currently used for several applications like tags & labels, menu cards and coasters, certificates & marksheets, calendars, banners, photo albums and carry bags, Cosmo Synthetic Paper has also proven to be an ideal versatile material for high quality coffee table books.
Proceeds from the sale of this book will support Cosmo Foundation's Community outreach initiatives to tackle the COVID-19 crisis, facilitate educational programs & skill development initiatives for the unprivileged, and create employment opportunities.