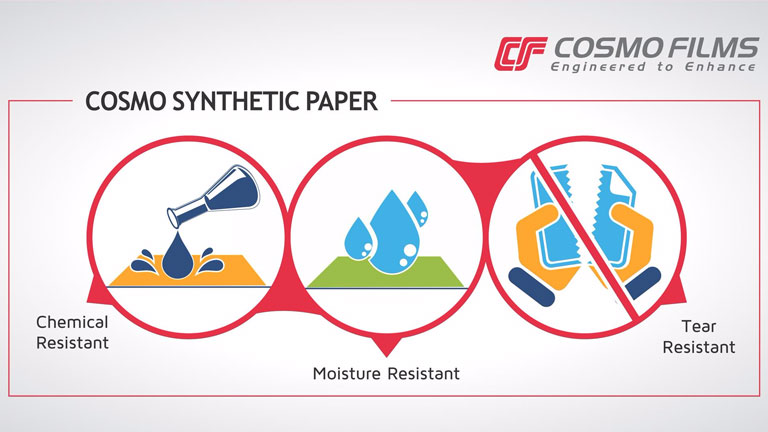 Paper that is non-tearable!
Synthetic Paper (CSP) looks and feels like the traditional paper we use, but with plenty of added benefits. You can print on it, fold it, cut it and even write on it, but unlike ordinary paper, CSP is known for its durability and longevity. It is very difficult, and bordering on impossible, to tear. Apart from this, CSP does not soak in liquid or crumble under humid conditions, in fact you can wipe of the liquid if it pours on the surface. It is chemical resistant and can be used in environment where regular paper would not survive. It is therefore safe to say that CSP is not just water-proof but weather-proof.
Now you might ask, what is CSP:
CSP is made from a recyclable plastic based film which resembles paper in appearance. It is engineered to be durable but, it appears and prints like normal paper. CSP is printable with most available printing technologies including:
Wet & UV offset printing
Wet & UV flexographic printing
Letterpress
Screen printing
Thermal transfer
Rotogravure
Most digital toner technologies
CSP provides an ease of conversion for slitting, scoring, folding, die-cutting, perforations, embossing, foil stamping and even lamination. It offers excellent lay flatness for sheet printing. Another advantage is CSP's optimized drying time.
Prior to synthetic paper, printers would coat or overlaminate paper to achieve added durability or gloss, however now with CSP they gain these attributes with just one stock. This eliminates an added step on press, which increases turn around speed and also lowers cost.
The versatility of CSP is reflected in the vast number of applications where it can be used:
Commercial Printing- Maps, Calendars, Posters, Coasters, Menus, Children's Books, Time Tables, Wristbands, Mouse Pads, Hospital Folders, Religious Books, Brochures and Leaflets, Recipe Books, Instruction Manuals, Bibs
Tags & Labels- Apparel and Footwear Tags/Labels, Paint and other Container Labels, Chemical Drum Labels, Construction Site Stickers, PS Labels for HDPE/PP/PET Containers, Track and Trace Labels/Tags for Supply Chain, Logistics and Inventory Management, Warning Labels on Appliances, Airport Transfer Tags
Retail & Packaging- POP Graphics, Posters, Indoor Billboards, Vertical Banners, Backlit Displays, Swing Stickers, Catalogues, Danglers, Gift Wrapping Paper, Carry Bags
Identification and Credentials- Visiting Cards, Airline Tags, Healthcare/Insurance Cards, Library Cards, Student ID Cards, Degree Certificates and Marksheets, Membership Cards, National ID Cards, Drivers' License, Voter ID Cards, Birth and Merit Certificates, Land Documents
Outdoors – Horticulture Identification Tags, Outdoor Billboards, Signages and Displays, Frontlit and Backlit Displays, Storefront Displays, Displays and Advertisements on Public Transport Vehicles, Bus Shelter Displays, Train Station and Airport, Signages and Displays
And the list goes on, the only limit to the possible applications of CSP is your imagination. It is made to cater to all business specific applications and printing technology requirements.
Overall, Cosmo Synthetic Paper offers technical expertise, performance benefits, and a level of versatility that is unparalleled, so that you can make the most of your investment.